Hi guys! It's Sunday! I'm beginning to appreciate weekends more now that I've started my temp job. I really look forward to every Friday now. Alright, I actually have a lot of posts to catch up on, but I'm still actually waiting for a video on the babes outing the other day, so I shall just do up a quick post on the ever highly raved Swee Choon dimsum. Yup, so last night, the babes and Trey went on a road trip in search for the awesome Swee Choon dimsum in the East. We got there at around 12.20am and the whole place was filled with people, not to mention the parking lots. But that didn't bring our spirits low, because we were determined to have the supposedly best dimsum, and the current trend now. We managed to find a parking lot and a seat in about 30 mins, and started ordering. So these were the items that we ordered. Contain your excitement guys, and prepare to salivate! Wahahhhahaha!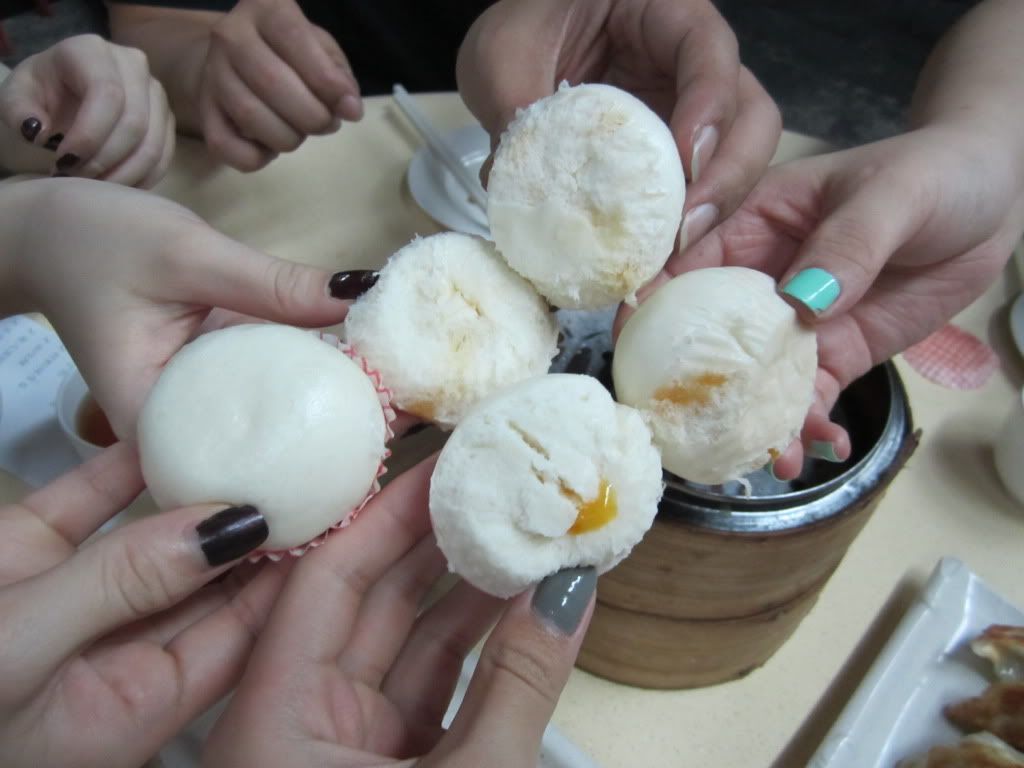 First on our list of must orders: The Swee Choon liu sha bao!
I'm sure this bao doesn't need more introduction. Just look at the yellowish and gooey egg yolk and custard wrapped in a soft and fluffy outer bun. The combination of this bun is just perfect! Salty because of the egg yolk, and sweet because of the custard. This is a bun that everyone should try! Awesome stuff!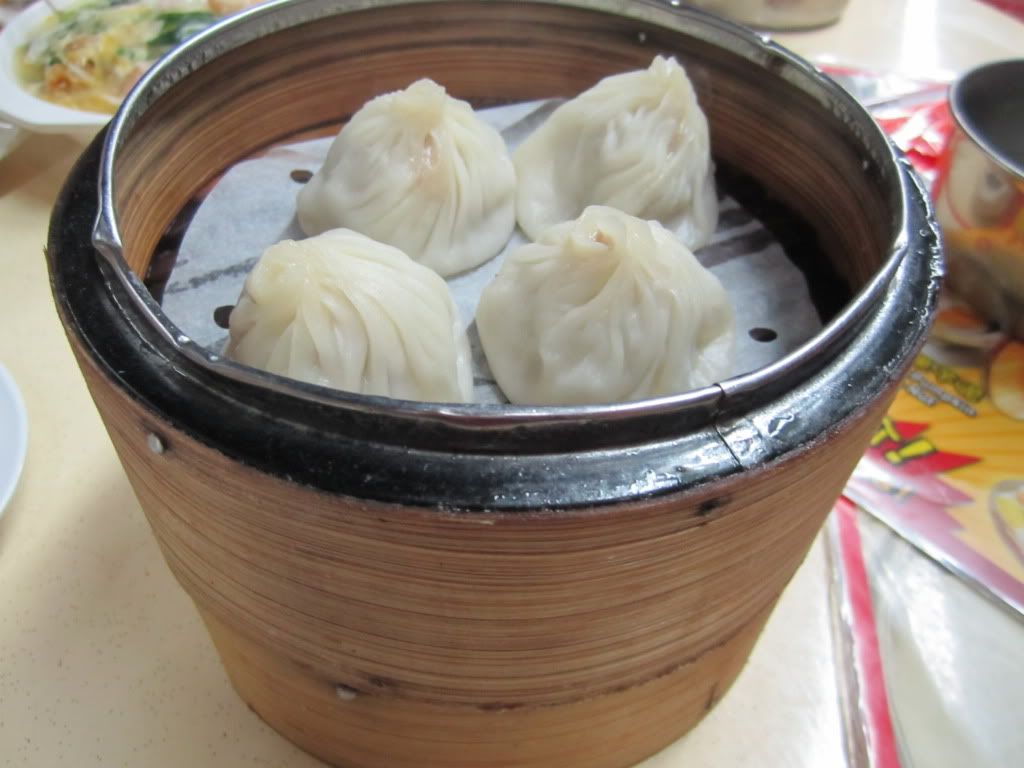 Xiaolongbaos!
The XLBs here really has the standard of some famous chinese restaurants, but at a cheaper price. The meat in the XLB is really flavorful and the soup is oh-so-yums! If you're a XLB lover, please do try this, and give it your verdict!
Deep fried pork ribs with salt and pepper.
I must say that I really loved this dish! The porkribs were soft and well marinated. The salt and pepper that was coated outside brought the whole simple porkrib dish to a whole new level. The composition of the tender and juicy porkribs, salty salt and pepper is absolutely mouth-watering. This is a must order dish too!
Thousand layer cakes (I literally translated this from mandarin)
This dish consists of pork floss and cucumber. A little like the Peking duck roll, just that it is filled with pork floss instead. You can give this dish a try if you love pork floss or the egg skin that they used it to wrap the ingredients up.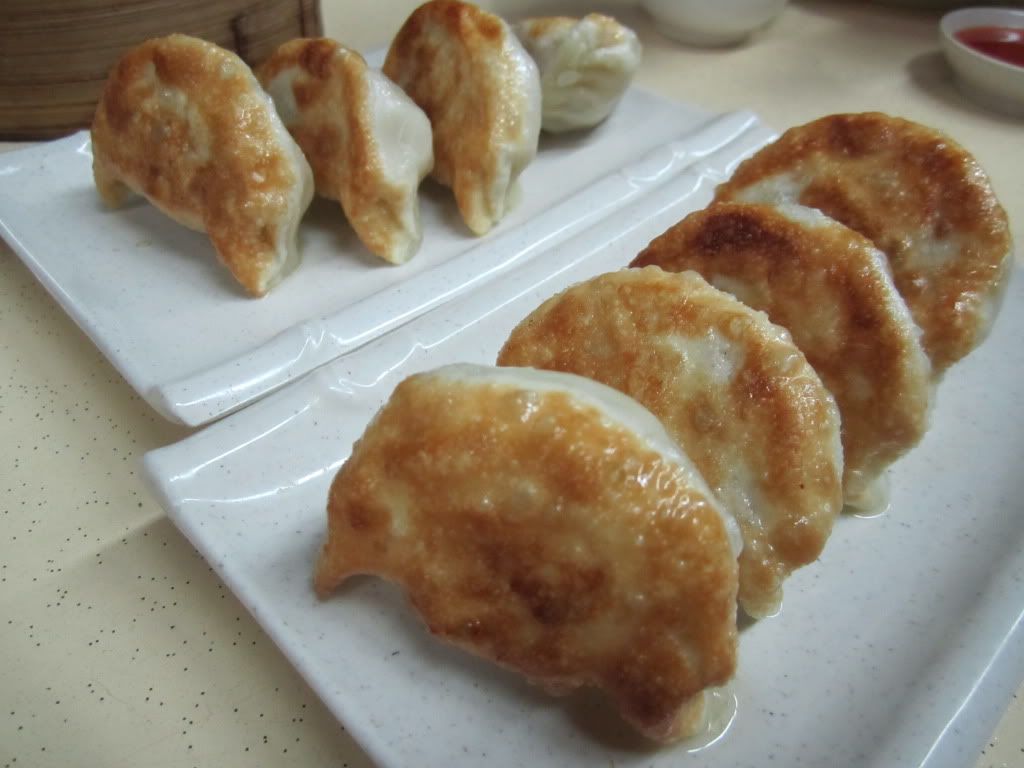 Pork dumplings.
This dish is pretty normal in my opinion, just that the meat inside is of course very nice, and the skin of the dumplings was pan fried to perfection.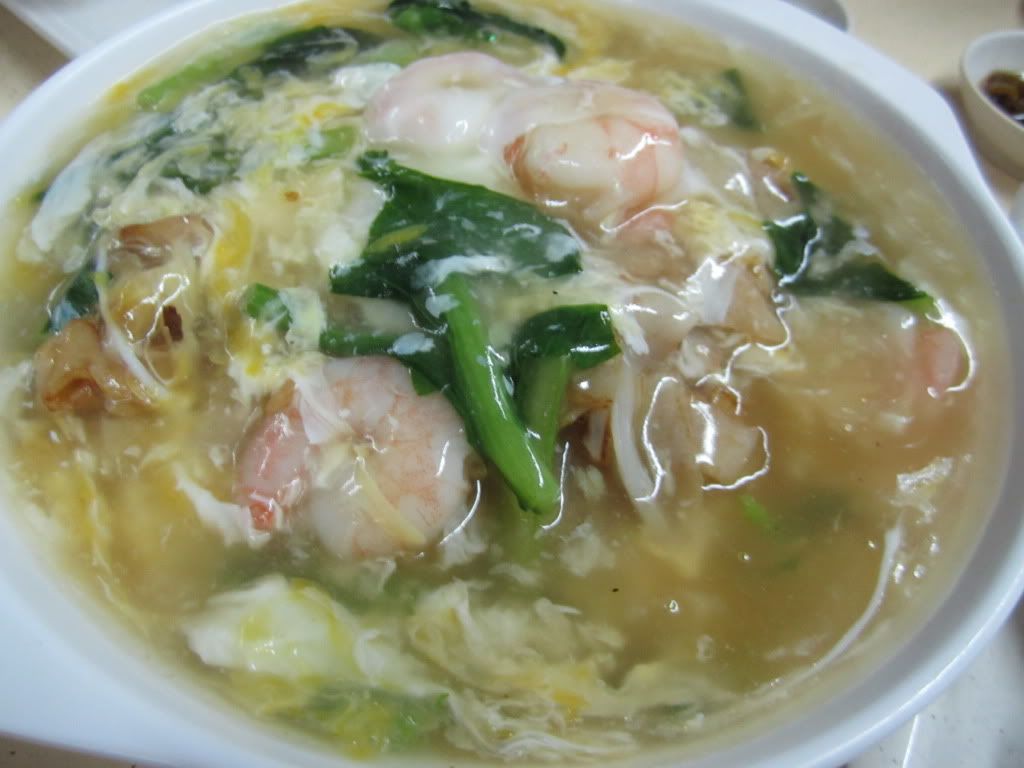 Horfun with eggs and prawns.
I loved this horfun! The egg gave the horfun a very smooth texture and the horfun itself has this strong taste like they fried it first before they pour the sauce over it. The prawns were extremely fresh and bouncy. The sauce wasn't too thick nor too soupy. It was just the right texture and it wasn't too salty! I absolutely love this dish!
Prawns in beancurd sheet.
Being a prawn lover and a beancurd sheet lover, this dish totally captivated my palette. I love how juicy and bouncy the prawns were and how crispy the beancurd sheet was. This is a must order dish for me whenever I'm having dimsum.
Yam Ball.
I love yam and this dish is really yummy! The outer covering of the yam is crispy and they actually have meat wrapped in the middle of the yam paste. This combination of the pork and yam is simply heavenly! When you first bite into this dish, you can taste the crispiness of the outer layer and then you bite into the soft and fluffy yam, and lastly you taste the minced meat. It's simply awesome!
Chee Cheong Fun
I felt that this CCF dish is pretty normal, just like any other CCF. Just that probably the sauce is nicer. I still prefer CCF with prawns or charsiew inside.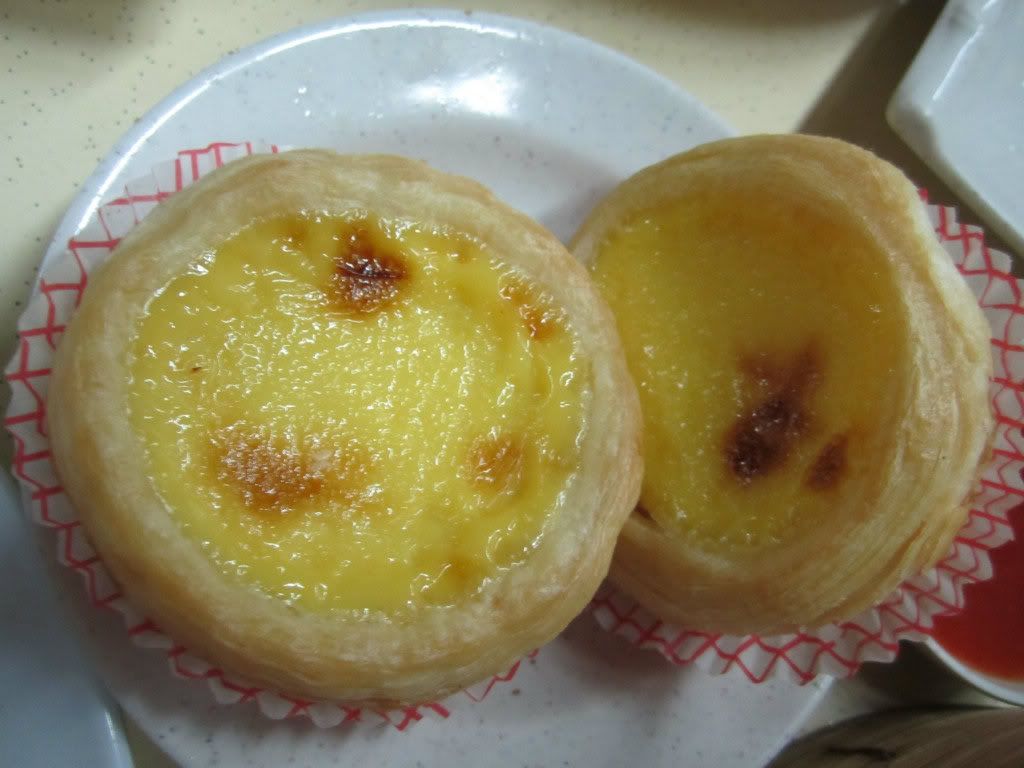 Egg tarts
I liked this egg tart. It tasted like Portuguese egg tarts that had a strong buttery taste. The crust of the egg tarts were also crispy and tasted awesome! If you want something sweet, try this egg tart!
And our night ended off with the highly raved Mee Sua Kueh.
This dish is really very very special. It looks just like normal deep fried carrot cake or yam cake, but when you look carefully and cut it up, you'll realize that it is actually deep fried mee sua! How amazing is that? When you just softly poke your chopsticks into a cube of it and pull it, you'll see shreds of mee sua, and it's really amazing in my opinion! Please do not think that because it is only mee sua, it will be bland. The taste of this dish is absolutely nice and crispy! They probably added in some dried shrimps and minced meat to give this mee sua dish it's extraordinary flavour.
Yup, this were all the dishes that we ordered last night. The total bill came up to about $67 for 5 pax. I must really say that Swee Choon has kept it's standard and left us wanting for more. If it's located in the West, I can foresee myself heading there for dinner everyday! Hahaha!
ADDRESS:
187/191 Jalan Besar, Singapore
*Please note that Swee Choon is closed on Tuesdays!*
Alright, that's all for this post. Will be back with more pictures of my outing with the babes! <3
Enjoy the remaining hours of the weekend and head to Swee Choon soon!
Love,
Su Shan!