Hi guys, I'm back with an update! I have an awesome Korean Restaurant to recommend to all of you! Jia Ying and I went to Plaza Singapura to try out the Manna Story Korean Restaurant after hearing some positive reviews from my friends. I'm someone who absolutely adores Korean food, so when I stepped into the restaurant yesterday, I felt extremely happy! One plus point about this restaurant is that they have very nice and homely decorations, with pots of artificial flowers and garden designs on the walls. Their service crew are also pretty nice. Okay, the main point is that the food is really super delicious and affordable! We ordered the BBQ pork and the Beef stew which came with a drink and rice. What's awesome about Korean restaurants is that they have lots of side dishes that comes along with your mains. Manna Story serves 4 side dishes and it is refillable once. Here are some pictures, I'll write more about it alongside the pictures.
Manna Story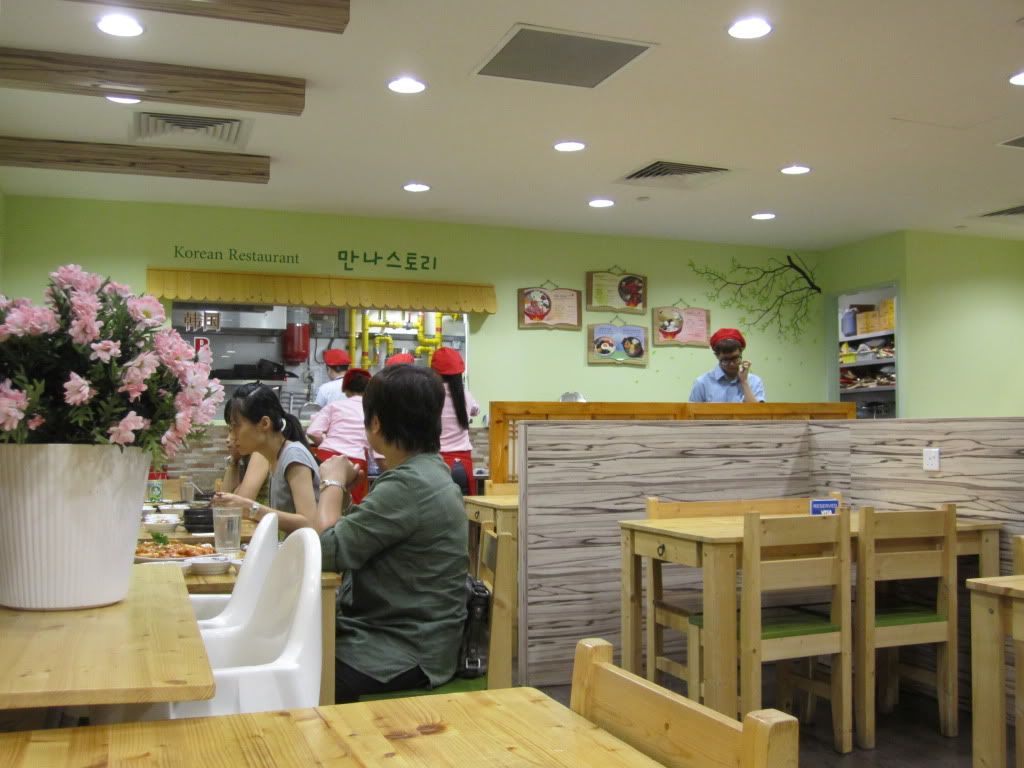 The interior of the restaurant, see all the wooden benches, the trees wall art and the pots of artificial flowers. It gives me a feeling that I'm having my meal in a garden, and to make it better, it is an air conditioned garden.
The side dishes
I love kimchi
Bean Sprouts
Potatoes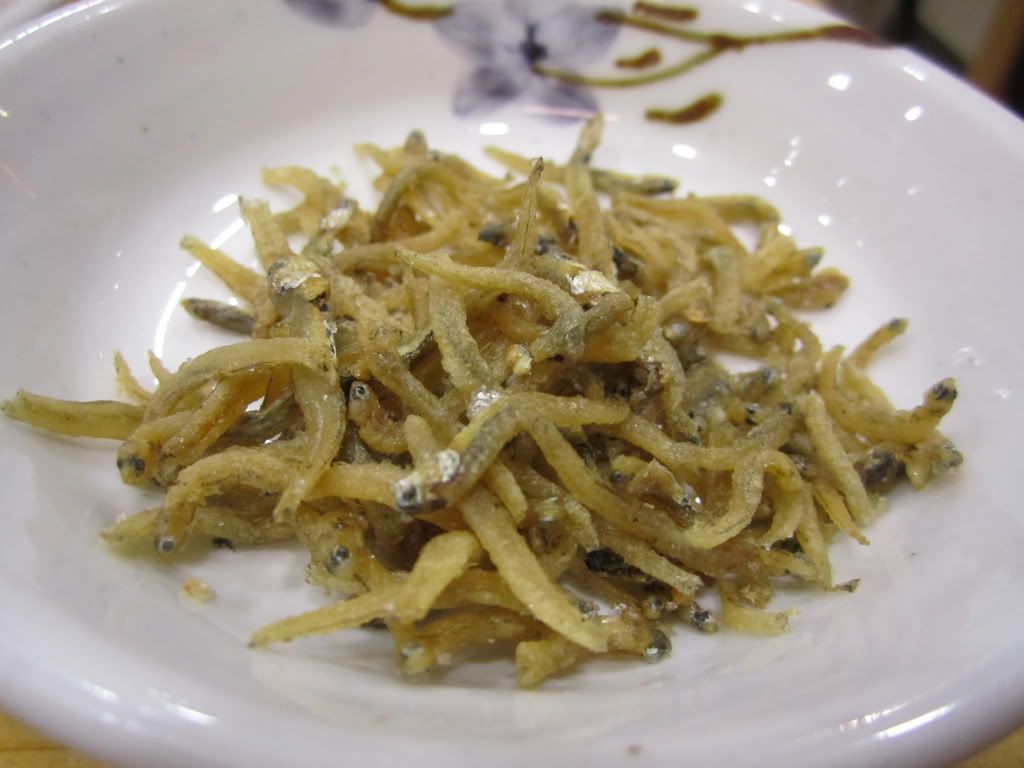 Anchovies that wasn't too salty, and we liked that it had a little tinge of sweetness to it.
BBQ Pork. I liked this dish. The sauce was flavourful, and the meat was tender. The only thing that I didn't like was that almost every slice of meat had fats on it, but if you're someone who doesn't mind the skin, you'll love this dish.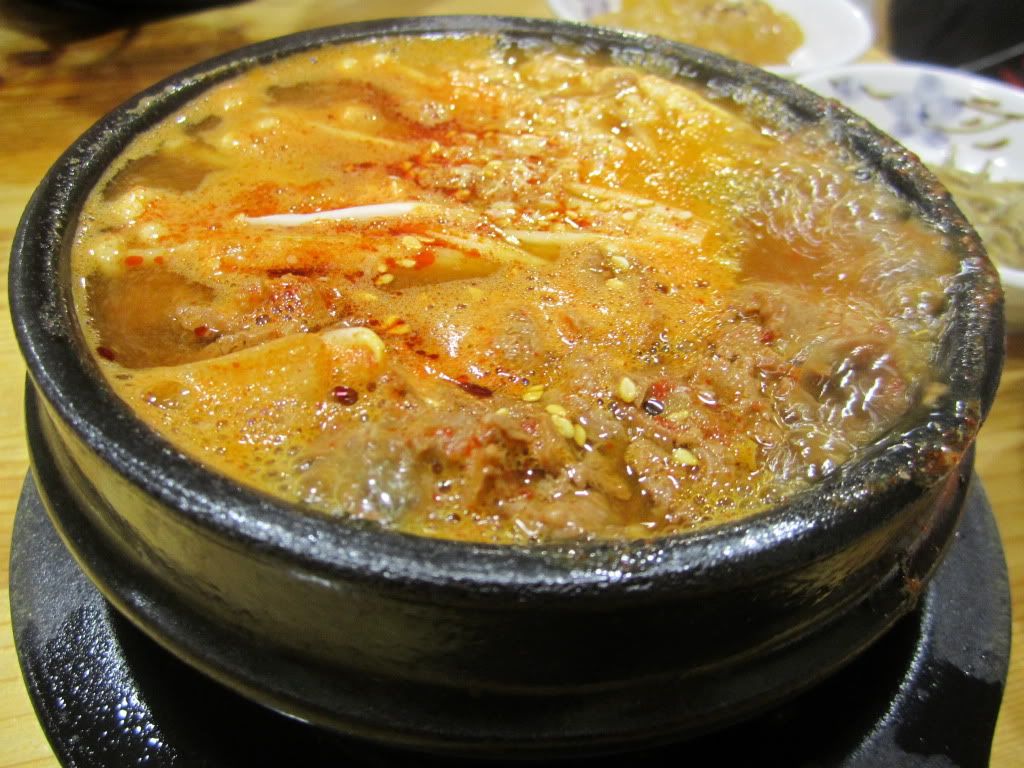 Spicy Beef Soup. Woohoo, I love this soup! The broth was extremely flavourful and not too spicy. Once you start drinking it, you'll keep wanting to drink more of the soup. The ingredients that they add in the soup is really nice too! With lots of marinated beef which is absolutely tasty, golden mushrooms, tofu and glass noodles. I also loved that they serve this dish piping hot! This is a soup that is not to be missed!
The total bill came out to be about $28.50 after GST and Service Charge. For the quality of the food, I would recommend all Korean food lovers to give this restaurant a try. It wouldn't disappoint.
ADDRESS:
68 Orchard Road, #B2-22
Plaza Singapura, Singapore
Next, we went over to Bugis to shop a little and walk around. After a round of shopping, we headed over to Liang Seah Street for some desserts at Ji De Chi. I usually frequent the branch at Jurong Point, but the standards of the desserts are the same. It's one of the better desserts around in my opinion.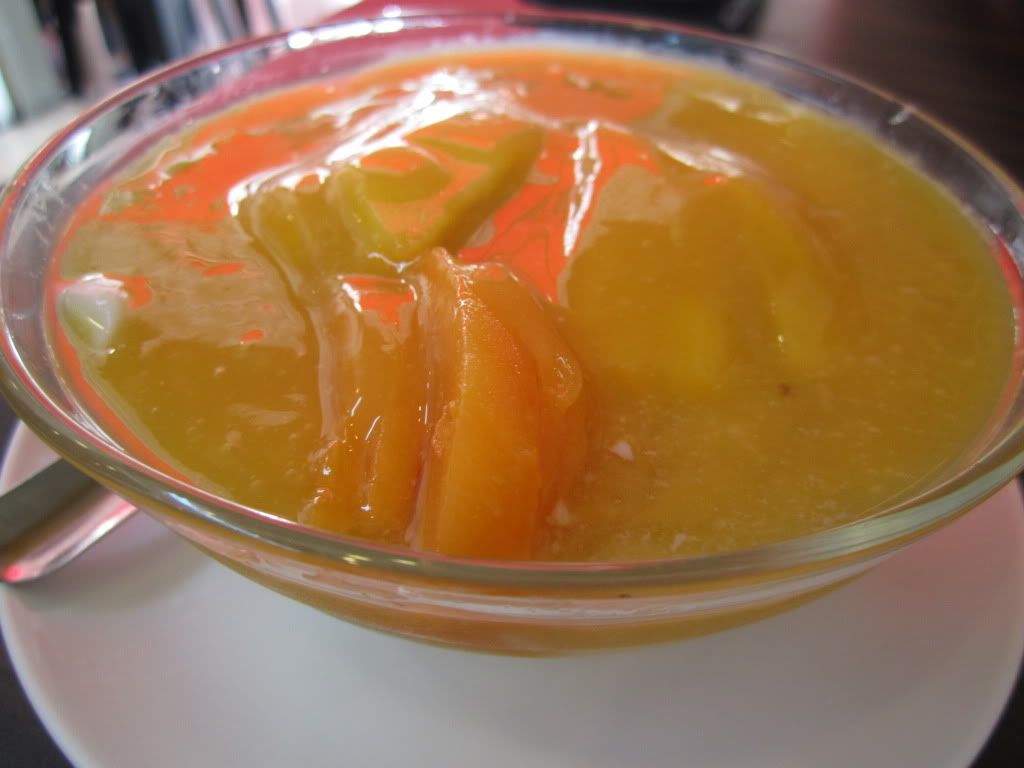 My mango puree with beancurd. I am someone who loves mango and beancurd, so this is the best combination that I can ever ask for.
($4.00)
Jia Ying's mango sago which she says is also quite good.
($4.00)
And we shared this durian dessert. I don't know what this is called, but the skin of this dessert is chewy and nice, the skin is also covered with coconut shreds. The durian filling inside is oh so yummy! I simply love anything that has durian fillings in it. YUMS!
($5.50)
ADDRESS:
8 Liang Seah Street,
#01-03 Singapore
Yup, that's all I have to share with you today, will be back with more updates soon.
Meanwhile, have a great day at work/school tomorrow!
Love,
Su Shan